Inbound call management
Instant call management puts you in control.
Inbound provides online access to a full range of call routing, monitoring and management tools to empower your business and drive customer service.

Inbound is packed with features to help you manage incoming calls, providing greater business efficiency, resilience, flexibility and better customer service. From simple call routing through to comprehensive call centre services, Inbound is everything your business needs.

Inbound puts you in control so you're not reliant on a network operator to make changes on your behalf. You can do that yourself, enabling you to securely make changes and get instant access to reports that meet your business timescales, not those of the network provider.

Using our online portal or mobile app you can set up call plans then see how many calls your business is receiving, how many are answered and how many are missed. You can improve customer service by better managing callers during busy hours, or when your office is closed.
You're in control
A network telephony service which provides your business with online access to a full range of call routing, monitoring and management tools that put you in control and help improve customer service.
Any number, device or location
Available on both geographic (01/02) and non-geographic (08/03) numbers and accessed from any device through a secure user-friendly website.
Easy to use
Jargon free, intuitive service enables you to become very productive, very quickly.
Immediate to set up
Everything is online and directly feeds into our network, allowing you to instantly create or make changes to call plans, announcements and other features.
Inbound Call Management - Services
There are three different inbound services, so whether you are a single site business needing simple routing plans, a multi-department or multi-site business needing to route by caller identity or location to the right account manager, or if you need professional call centre functionality, there is an Inbound solution ideal for your business.
Inbound Call Management - FAQs
Can I build my own call plans?
You can build call plans according to your business operating hours and modify instantly in accordance with your changing business needs. Schedule call routing in advance according to your business hours and call handling preferences and use call divert options to maximise your call handling potential and provide an improved service to your customers.
Can I see information about my callers?
Easily interpreted graphs of your inbound call statistics helps you track calls and enhance your marketing. Snapshot data provides you with results of call handling efficiencies enabling you to make informed decisions.
How does inbound improve customer service?
Without call plans in place, it's easy to cut yourself off from your customers as you may not be there to answer the phone all the time. With Inbound you can manage what happens to your calls when your office or shop is busy or when closed. Divert calls during these times to another location or mobile and never miss a call again. You can even record calls for compliance or training purposes and report on your company's productivity.

You can also make and upload to the call plans your own voice announcements to provide customers with routing options or advise them on opening hours or website address.
What happens when we are really busy on the phone?
You can queue incoming calls to a destination number in our network to assist with call handling during busy periods. Use live queue statistics to monitor customer service and make instant changes in terms of queue management and size with optional queue breakout and overflow preferences to an alternative destination, announcement or voicemail service. Project onto a wallboard to give immediate feedback to call handling agents and their supervisors.
Can my staff make their own call plans?
A master administrator can create sub account users via an admin tab, enabling individuals to access specific numbers and features. This can be useful when providing employees with call routing management of their own DDI number, so that they can choose and manage themselves where they receive their incoming calls at any time, whilst restricting access to features such as call recordings.
Can Inbound help with business continuity?
Yes, with Inbound, you can cater for business continuity in the event of a disaster or unforeseen event by instantly redirecting calls to another site.
Inbound and business continuity
Inbound also provides a ready-made business continuity solution. You can instantly direct calls to another location, either manually or automatically, should there be an outage or other issue.

You can use Inbound with any number, from anywhere and with any device. There's no capital outlay. Inbound services can be set up in minutes for maximum operational flexibility, and are incredibly easy to use.

Download our free app to manage your inbound numbers anytime, anywhere on your smart phone. Get access to all the main Inbound call functions – great for making changes on the move and during contingencies. See your call history, weekly call trends and much more.
Advanced call statistics
Inbound gives you access to optional advanced call statistics which show call handling efficiencies such as productivity, call patterns and caller behaviour and enables you to make informed business decisions. Find out how long it takes to answer calls, waiting time, call outcomes and see caller details.

Inbound reports can be scheduled so that your call statistics for daily, weekly or monthly time periods can be automatically sent to up to three dedicated email addresses.

Call Recording can be used for compliance, customer service or audit purposes.

Choose to retrieve voicemails online or by email with .wav attachments – a great way to maintain records and audit trails.

Use Call Whisper to record a brief message which is then played to the call centre operative just before the call is taken giving further information on how to answer the call, allowing a more tailored response.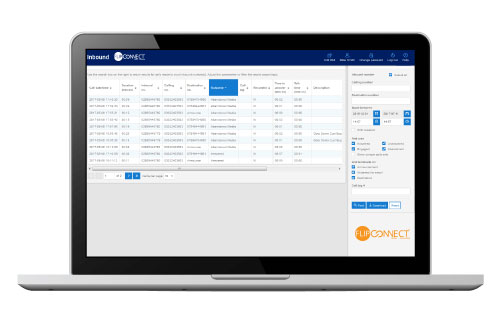 Inbound Product Brochure
Case Study
Lintbells has been making premium quality, natural supplements for pets since 2006, when John Davies and John Howie discovered a shared passion: the difference great nutrition can make to pets' lives.


Download the Testimonial
Have you seen our other products?
---
Would you like to speak with a Call Management expert? Contact us
Rebecca Davies, Lintbells