Phone Systems for the Retail Industry
Raise your game in retail by using business phone systems
With multi-channel retail giving consumers ever more choice over how and when they shop, there have never been more ways for vendors to up their game with exciting shopping experiences, added convenience and innovative services that keep pace with market trends and, most importantly, keep customers happy by giving them more of what they like.
Cost Control
Immediate online access to call stats, billing data and other key management information so you can keep a close eye on costs and reduce non-essential traffic.
Multi-Channel Ready
Flip's voice, data and converged services mean you're ready to evolve to the world of multi-channel retailing.
Security
Fully PCI compliant voice services that support card payments over the phone right across your business.
Track Record
Working with food outlets, sports and clothing chains, retail industry bodies and others. Our unrivalled presence on the high street supports retail businesses of all sizes.
Are you ready for PCI compliance?
The Payment Card Industry Data Security Standard (PCI DSS) is the proprietary information security standard defined by the major card companies to help combat fraud and protect consumer card data.
Its members include Visa, MasterCard, American Express, Discover and JCB. PCI DSS applies to all organisations that store, process or transmit cardholder information, from any of these members' cards. The type of annual assessment required varies according to "level", which is defined according to the volume of payment transactions that are handled. With 327 controls to consider in total, it is vital to ensure you have them all ticked. The effects of being non-compliant can be disastrous for a business due to the very real financial risk of opportunistic agent fraud and the associated risks to reputation. Some of these include:
Compromising your customers' payment data
Loss of customers, damage to your brand and reputation
Expensive lawsuits and insurance claims
Substantial payment card user and Government fines
Communications for retailers
Helping retailers to implement their digital transformation strategies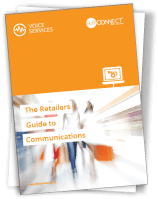 Download our eGuide
Recent Retail Sector Installs
---
Would you like to speak with a Retail expert? Contact us