3CX V18 is here: Connecting Teams & Customers – Faster, Better, More Efficiently
3CX V18 is here offering best in class audio quality, performance and reliability. With customer communication at the forefront, V18 provides an all-in-one integrated solution to communicate internally and connect with prospects – via voice, live chat or video.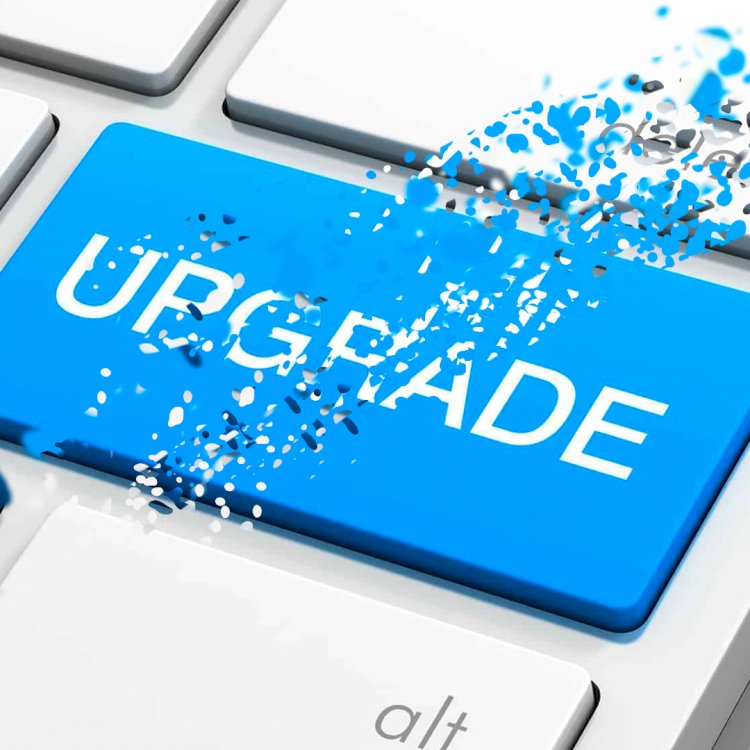 New 3CX Client and Desktop App
The Web Client has been improved and made available as a native Windows Desktop App, eliminating the need for the browser extension. The new Desktop App uses the same Electron framework used by Teams and WhatsApp, integrating better with the OS for a more reliable user experience.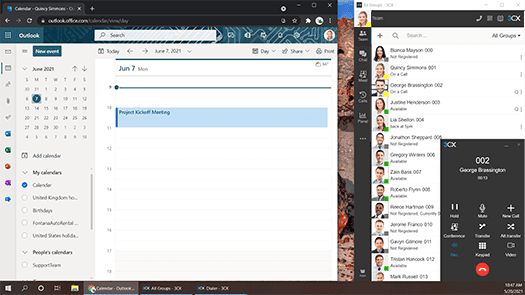 Uninterrupted workflow. Efficient workspace
The app is equipped with a separate dialler, so you can simply answer a call from the page you are working in, without having to switch between apps. If you wish to have the desktop app in sight, you can also minimize the window to a desirable size and keep it on the side of your screen for easy access.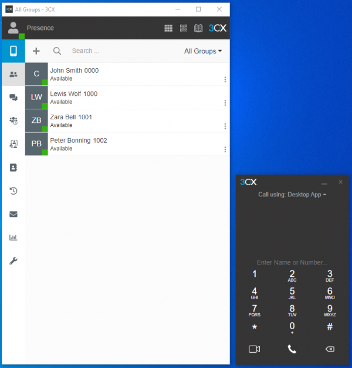 Never miss a call
The option to have the software launch at login is very beneficial for those that exclusively use softphones, this can be set up so that when an agent starts their workstation, the phone will instantly be logged in and available to avoid users forgetting to open the application and hence miss customer calls.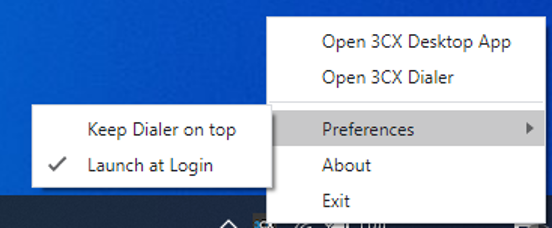 Further changes are the relocation of where you change your presence. Again, to keep the new application slim-line and easy to use the Avatar and drop-down selections for the presence have been merged. This creates an intuitive user experience similar to Teams and therefore will ensure that new users to 3CX find it a familiar experience…but better!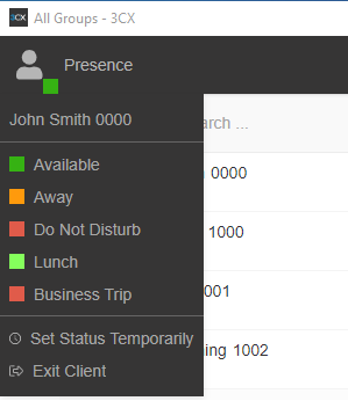 New web client interface with BLF support
We've consolidated the menu options on the left-hand side of the web client and desktop app, adding labels to make the functionality of each item clearer. Contacts, Voicemail, Recordings and Settings are now located in the "More" menu list.
The 3CX dialler now includes a BLF menu which works just like BLF buttons on an IP Phone. Monitor who is available, transfer or park calls or speed dial your most commonly dialled extensions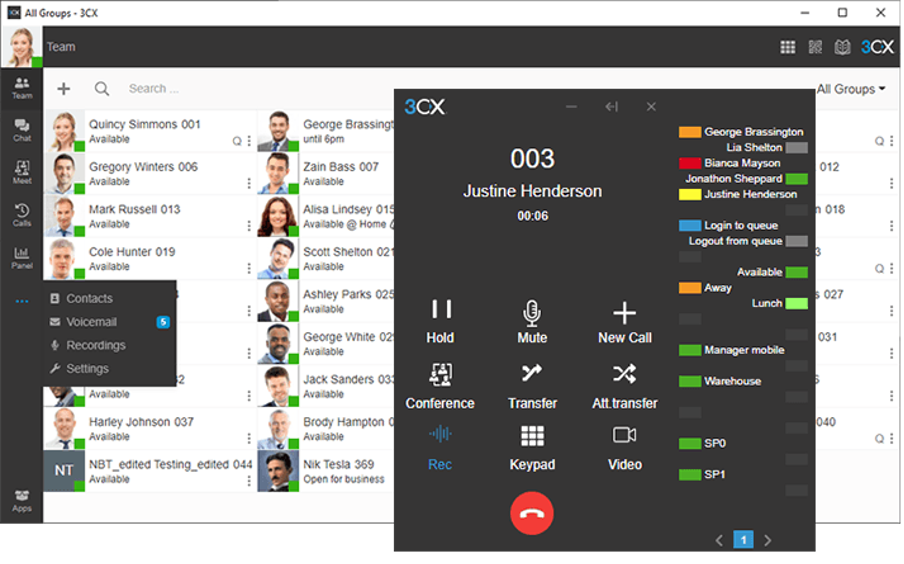 Click on the video presentation and learn how to: https://youtu.be/8RqBnj2qOdo
Make audio and video calls

Set your custom status message

Communicate and share files through chat

Start or schedule video conferences from the app

Receive notifications for missed calls
Keep, track and manage your voicemail

Use a switchboard for efficient call management
Improved Mobile Apps for seamless remote working
Better codec management – auto set codec depending on Network (WiFi/3G/4G).

Improved reconnection in the case of network changes or drops.
Never miss a call – collaborated with Google & Apple to improve reliability of PUSH notifications.

Added support for bluetooth and hands-free devices.

Siri integration – iOS users can now tell Siri to make calls using 3CX.
Simply put, the new version of the Windows desktop app is simple, sleek and now brings it up right up to date offering complete flexibility and a smoother and more reliable user experience.
Microsoft Teams Integration
3CX now natively supports Microsoft Teams. With our 3CX Teams integration, Teams users can dial 3CX users and vice versa. Teams users can dial out via 3CX and leverage Flip's low cost domestic and international tariffs. Teams integration offers a cost-effective alternative to costly MS365 calling plans, allowing businesses to cut costs while having a much more powerful PBX to boot.
Other features and improvements
Ability to send emails from 3CX by utilizing Microsoft 365 Integration.
Improved chat handling to: Add/remove chats, transfers & forwarding images.

Updated Welcome Email.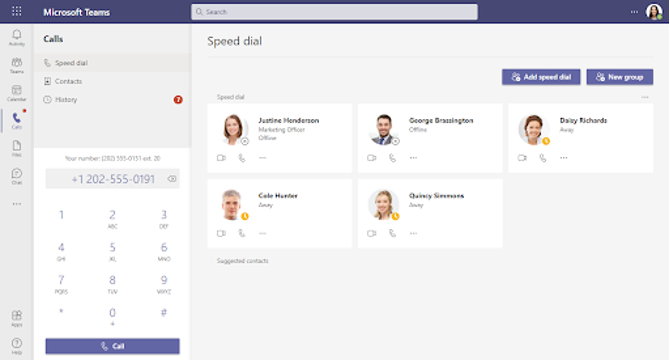 Video Conferencing & Apps: What You Need to Know
3CX Video Conferencing (formerly known as 3CX WebMeeting) has undergone a complete redesign, focusing heavily on new features and data privacy. Here what's new:
The old Android and iOS apps have been completely scrapped and new ones have been created from the bottom up. Joining a live meeting on the go has never been easier. You can now view shared content like shared screen content as well as shared PDFs.
Additionally, you can now participate in polls and view whiteboard or shared PDF content.
The apps are available in the iOS App Store and Google Play Store.
New Apps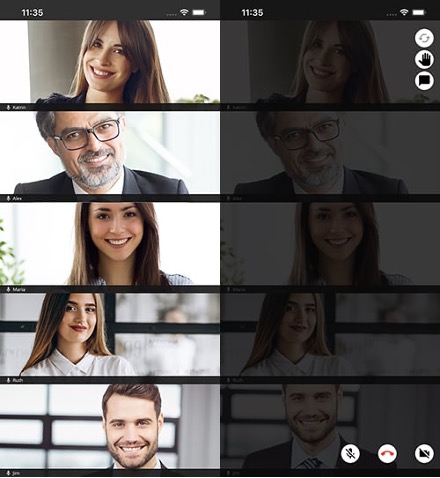 New Features
The 3CX video conferencing solution has always been focused on moderating a meeting from the presenter's point of view, this is a usability case other platforms have almost completely failed to address.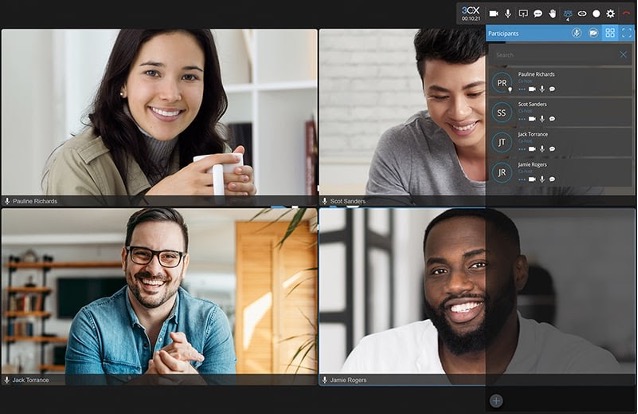 These video conferencing functionalities have been extended even further to ensure hosts can present with ease and moderate participating users at the same time.
Ability to turn off and lock video, audio or chat of all participants in the meeting with one click. This is particularly helpful if you have a sudden need to switch from meeting mode to a classroom-style meeting temporarily.

Ability to lock the meeting and disallow new meeting joins.

Redesigned the notification and navigation bar to use your screen space more efficiently. Chat notifications allow you to follow and manage specific users chats without needing to have the chat box open. New user join requests are now presented as notifications.

Added the ability to post chat messages as Q&As which can be sorted and upvoted by others to allow efficient handling of post-meeting wrap-ups.

Simplified the way you invite peers to your meeting. The available invitation methods are now: mail, link, QR code or even via 'WhatsApp'.
Presenting from a secondary camera that can be helpful in auditorium broadcast or a document camera to show analogue and paper content to your peers.

A grid view layout is now the default for meetings whereas the classroom meeting type uses the moderator focused layout. Once enough users join, user tiles are marked blue based on voice activity to keep easy track of who is talking.
What's Your Reaction?