Why you should be using the 3CX Android and iOS applications
As a keen 3CX advocate for nearly 10 years, I have had my fair share of experience with using 3CX mobile applications so with the newest updates, I wanted to convey my thoughts on the app as we know it in 2021. Short review…Oh wow! The Android and iOS applications are clean, sleek, and easy to use. As I am sure many of you reading this will attest to, the mobile apps are a real key USP to the 3CX system.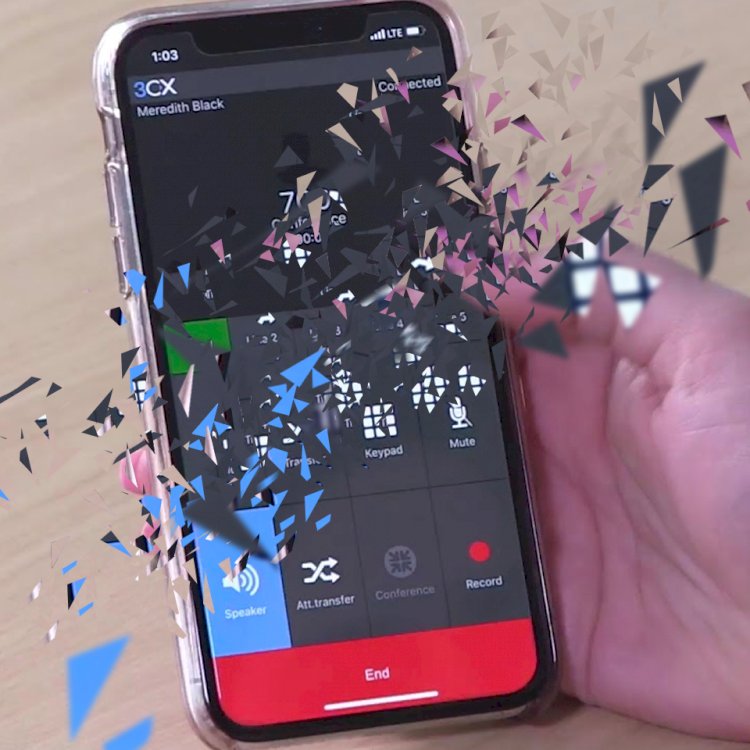 With the upcoming and highly anticipated version 18 release, I wanted to give a few key takeaways as to why I LOVE the 3CX mobile apps and just a few ways how I see them continuing to disrupt the communications world in the coming months.
Cost Reductions
When the onslaught of the pandemic hit the world, companies quickly scrambled to get their business WFH ready. I know of many examples where customers already had a 3CX telephone system but completely forgot that they were already equipped due to the situation. Welcome emails were quickly sent, and businesses were immediately back to "normal" working conditions. There was no need for expensive IT support to create complex VPN networks to users' homes. No need for the businesses to spend large sums of now critically valuable capital on VoIP handsets.
Aside from the dreaded P-word, I am seeing more and more businesses utilising mobile applications, and for good reason. After all, the say goes "cost is king". However, useability comes in close 2nd place.
Ease of Use
The 3CX mobile applications are an absolute pleasure and a breeze to install, configure and use. This is highlighted by some of the latest improvements brought to the app including supporting "Hey Siri!" to make calls using 3CX and further optimization for Bluetooth devices making in-car communication even simpler.
As an avid 3CXer, I have long extolled the mobile application's virtues and found innovative ways of utilising it to enrich user experiences and simplify communication.
At the end of the day, these are the core values of 3CX right?!
Inter-Company Communication
With more and more businesses seeing the multiple benefits of staff working from home including cutting the companies carbon emissions due to less commuting, and the well documented lower running costs, no doubt the WFH generation is here to stay.
However, that does bring its own challenges. One of these key issues I see is ensuring that your staff are still talking to each other rather than just becoming a recluse in the spare bedroom not seeing the business's general day-to-day business. This is so important because a well-informed team will offer a higher customer service level.
What am I talking about, for example, a customer support team who (historically) all sat in the same building would hear other conversations going on with customers. This would then create internal conversations between the support team who would gain greater insights into how a team member solved a particular customer query. That channel of communication is natural and just flows.
Now split up your entire team so they cannot have a chat at coffee time. My top tip, create 3CX group instant message chats for your teams. You could use one group specifically for your support team or sales team, then create a whole company group. Sure, the results could be interesting with some GIF's being sent around but hey, they are talking! That is what you want! Even your sales teams who are on the road are included and everyone will reap the benefits.
Facebook & Website Chat

Finally, this brings me to utilising the free built-in chat and linking it through from your company Facebook page and also linking it using the website plug-in to enable live chat on your site. Gone are the days of live chat being reserved for big corporates. Now you can give your customers the opportunity to browse your website while chatting to an agent. Again, remember, this means that those users who are out on the road can still be part of the chat group and answer customer queries no matter their geographic location.
Features like taking ownership of a chat, transferring it to another colleague & marking it as dealt with will ensure that you present the best company image to all of your clients. No matter the size of your business, all the way from a sole trader to a large enterprise, live chat delivered directly to your mobile device brings customer service to the next level and will hopefully result in happier customers who will come back to you time and again.
Summary
The benefits are clear and there are many more that I have not covered. There are advantages including connecting employees in other countries, reducing phone bills, further connecting customers to the correct staff and much more. Download the app now and start reaping all of these benefits.
Can I get 3CX now?
Yes! Contact us by sending an email to sales@flipconnect.co.uk or calling 0800 069 68 68
Original post by @3CX
What's Your Reaction?