A COMPLETE BUYERS GUIDE TO 3CX 
3CX is a modern, future proof, intuitive unified communications solution that can help take your business to the next level, helping to improve collaboration, boost productivity, increase mobility and enhance the customer experience. Users have instant access to communication tools such as presence, CRM integration, live messaging, web conferencing, fax & voicemail to email and more.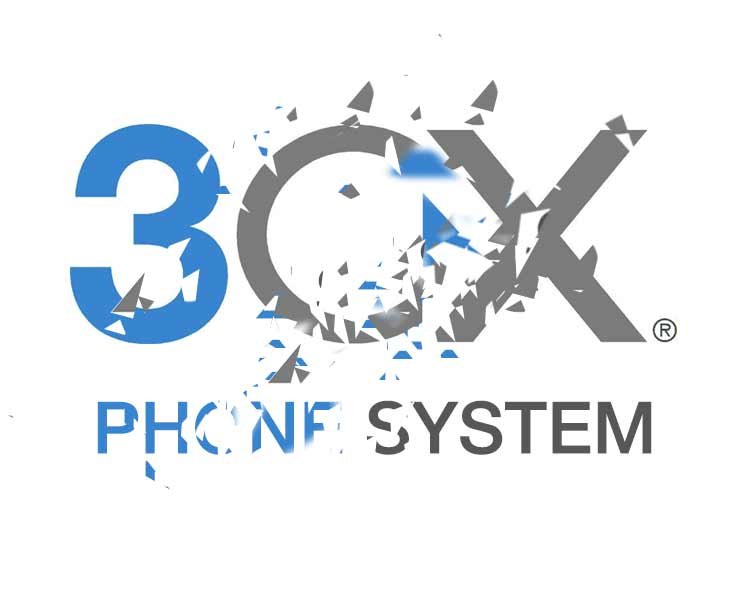 WHAT IS 3CX?
3CX is a flexible, scalable, and feature-rich centralised cloud-based system with a full range of UC features integrated into the phone system, users can connect and collaborate through a variety of methods all under one platform. Including enterprise calling features such a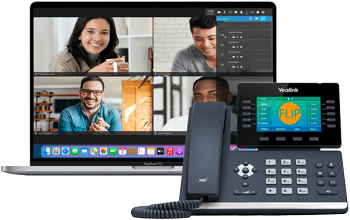 s queues, ring groups, contact centre modules, advanced reporting tools and CRM integration with Office 365, Teams, Salesforce and Hubspot out of the box. Management and maintenance of your phone system is effortless, making it a great choice for modern businesses of any size.
BUILT FOR REMOTE WORKING
3CX was built for mobility, with remote work apps that offer secured communication for the whole team. With the iOS and Android applications, business communication is no longer tied to the office building.
Take your extension with you anywhere and work on the go. Reply to business SMS, Facebook and website messages, make and receive calls, chat with co-workers, start a video call on the fly and ensure your customers are satisfied even if you're working remotely. With 3CX your remote teams retain productivity and stay connected at all times to colleagues and customers.
REDUCES TELEPHONY COSTS
With 3CX, companies can reduce their telephone costs by up to 80%, by leveraging SIP trunks, WebRTC, free calling to remote extensions and offices and reducing the number of fixed telephony lines. With the CRM integration, agents get a customer name rather than a number.
SECURITY AND BACK-UP
With advanced 3CX security protocols and technologies, your 3CX system will stay safe, secure and reliable. All traffic to 3CX clients is encrypted via a Session Border Controller (SBC) to protect your phone network from attacks. Built-in disaster recovery means that if your system goes down, all your phone data and configurations are safe.
Advance security protocols, including traffic encryption via 3CX SBC
Automatic detection & blacklisting of SIP Attack tools

Global IP Blacklist automatically updated for participating PBXs

Voice traffic is encrypted via SRTP

Automatic generation and management of SSL certs

Automatic Failover for instant backup
Encryption between browser and the website ensured via HTTPS

Limit access to 3CX management console based on IP
3CX PHONE SYSTEM FEATURES
3CX SOFTPHONE
With the 3CX VoIP clients for PC, MAC, Android and iOS can take your extension wherever you go. 3CX delivers the one number concept meaning that you no longer have to give out your mobile number. Set your status so your colleagues can see whether or not you are available to take a call.
The 3CX clients for Android and iOS utilize VoIP and are easy to set up and manage. The clients can be automatically provisioned from the 3CX Management Console, reducing help desk calls. Because of the inbuilt tunnel, the 3CX clients work seamlessly across all firewalls, making them even more reliable.
Downloaded onto a PC, laptop or mobile, it enables staff to make and take calls over their internet connection, rather than a more expensive landline. Integrated WebRTC technology helps minimise bandwidth usage. Perfect for remote working, the 3CX softphone app has helped organisations maintain their communicati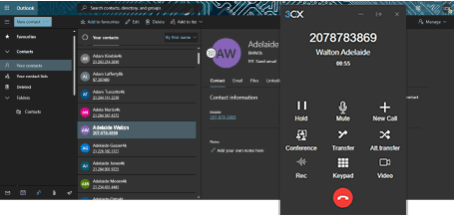 ons, and proved a connectivity lifeline for countless workers forced to work from home because of COVID-19.
3CX CRM INTEGRATION
3CX supports a large number of CRMs out of the box. Know exactly who is calling before you pick up the phone: integrate your CRM software or helpdesk system with 3CX. Have the customer record open and ready, and see when they called last, who they spoke to and what it was about. Save your agents time and IMPRESS your clients with customer service records that make handling issues more efficient. You will have happier customers and happier agents, as they can handle more calls and make more sales!
3CX VIDEO CONFERENCING
Hold face to face meetings at the click of a button! How? By using 3CX's web conferencing feature which is WebRTC based and eliminates the use of clients. It's an easy-to-use web conferencing solution, that transforms the way you communicate and collaborate within your company and with customers.
Save time and money by hosting your meetings online. The web conferencing feature is included in all editions of the 3CX Phone System for free, for up to 250 participants.
3CX LIVE CHAT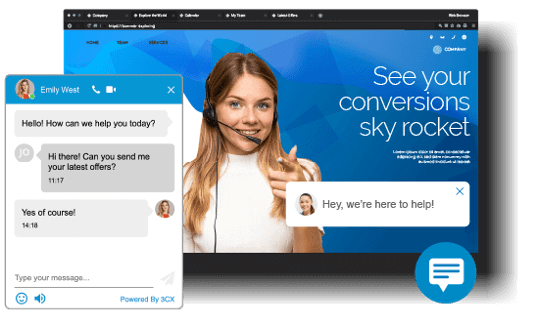 Statistics show more than half of all customers prefer to chat with someone in real-time! Installing a live chat solution on your website will not only improve customer satisfaction but will also increase your lead conversions. But what if a query becomes too hard to handle over chat? Enter 3CX Live Chat.
By integrating live chat with our phone system, website visitors can chat with agents in real-time and can switch to a live call or video call in a single click – with no dialling of phone numbers. That same agent can answer immediately from their 3CX Web Client, Windows Desktop App or mobile app.
How's that for customer service? What's more, you get to keep all your communication on one platform, including chats coming through your business Facebook page and business SMS. Watch conversion rates and customer satisfaction skyrocket. Save on admin time and monthly software subscriptions!
DETAILED CALL REPORTING
In-depth call reporting is essential for gaining real-time insights into your contact centre's performance and customer needs. How long do your agents spend on a phone call? What's the number of calls they make and receive? What is the overall performance of your queues? Which agent is underperforming or burning out?
SLA statistics, unanswered calls, abandoned calls – the list goes on.
With 3CX's advanced Call Reporting feature, you can utilize reports to make informed decisions about your business, restructure your call centre, optimize agent productivity and increase customer satisfaction.
Can I get 3CX now?
Yes! Contact us by sending an email to sales@flipconnect.co.uk or calling 0800 069 68 68
What's Your Reaction?